Hawaii Kids Music and Leon & Malia
Learn and sing about Hawaii's unique environment, animals and people with Leon & Malia, Hawaii's favorite songwriters, singers and television celebrities! Check out our educational resources for study units and lesson kits. Visit our events calendar to find out where Leon & Malia's next performances will be. Read product reviews from home and abroad! Remember to visit our online store for Hawaii Kids Music products and other great merchandise.
Welcome and Aloha to Friends from Around the World!
We're excited that you've found the best website for Kids music from the Hawaiian Islands! Now that you're here, enjoy the Island experience of Hawaii kids music and Leon & Malia! And let us hear from you! Go to our Events/Contact page and write us. We appreciate your comments and welcome your questions.

Welcome Parents and Educators!
Leon & Malia provide quality educational entertainment for Hawaii's children through live concerts, children's programing and lesson kits for kids pre-school through elementary age. Catchy songs about Hawaii's creatures, environment, and people coupled with a complete set of lyrics and background information about each song brings Hawaii into your classroom! Visit the Educators' Page to learn more about Hawaii-related lesson kits and more educational resources from Leon & Malia. Visit the Parents Page for Coloring and Activity Books!

Video Sample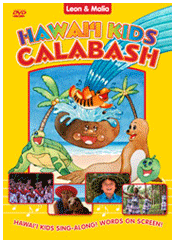 CLICK FOR VIDEO PREVIEW

NEW RELEASE!
Hawaii Kids Calabash
(sequel to Keiki Calabash)
Musical fun with Leon & Malia, hundreds of island kids, hula dancers, playful puppets, all set in the great Hawaiian outdoors.

Follow us on Facebook